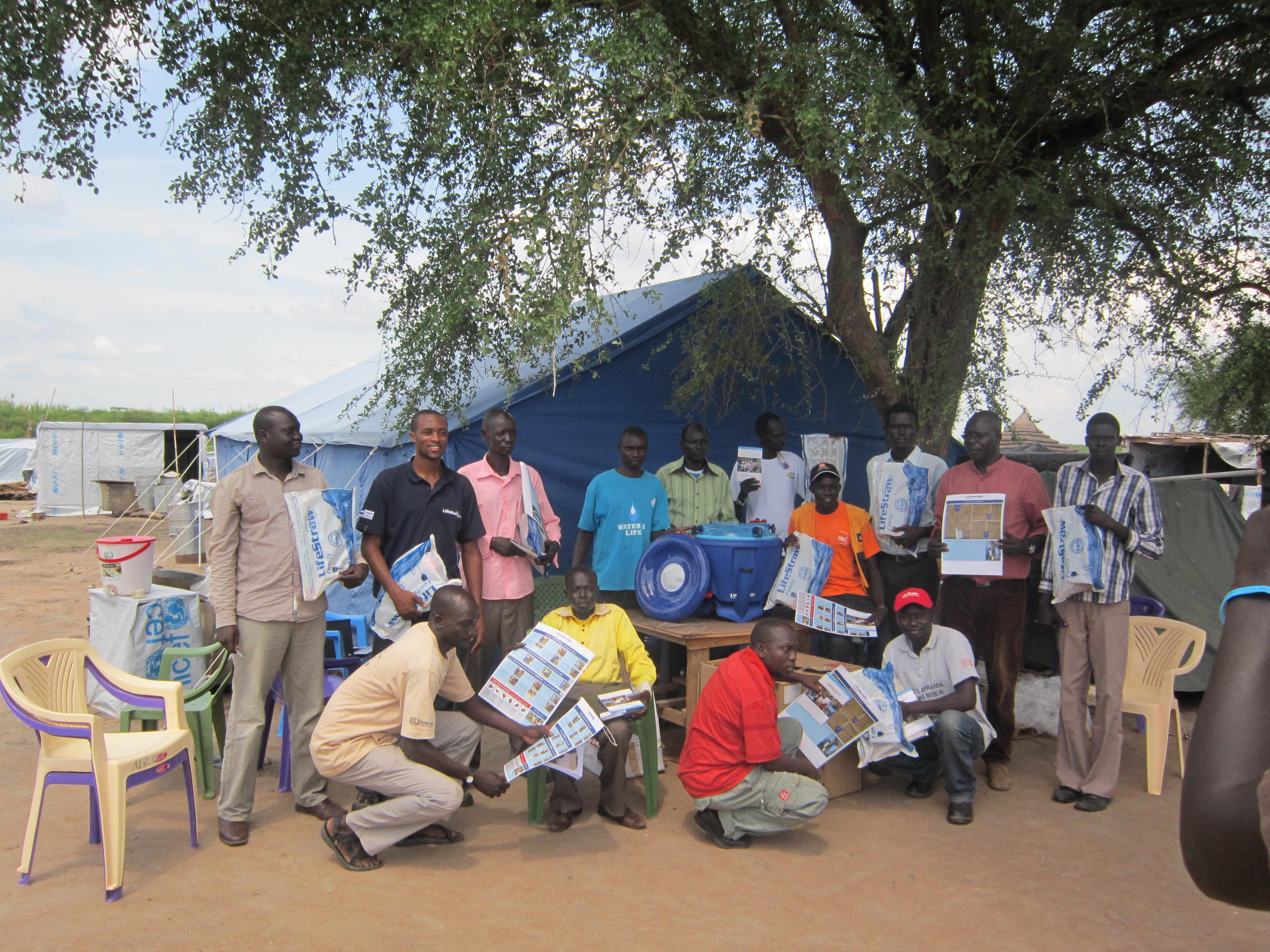 Safe Water for South Sudan: A Look at LifeStraw's Work
August 17, 23
2014: Providing safe water to South Sudanese refugees in Mingkaman
In 2013, South Sudan was plunged into a brutal civil war that displaced millions of people and left many without access to safe water. The WASH situation was already poor before the conflict, but it worsened significantly during the war. One of the worst affected areas was the Mingkaman refugee camp, where over 100,000 people sought shelter from the violence.
In 2014, LifeStraw partnered with RUWASSA, a local NGO that works under the umbrella of UNHCR, the UN refugee agency, to distribute and install the filters in Mingkaman, one of the largest refugee camps in the country.
Getting to Mingkaman was not easy. The camp is located in the middle of the country, along the banks of the Nile. The road was rough, muddy and dangerous, with frequent checkpoints and harassment from armed groups. I had to hide under our bags several times to avoid being seen as a foreigner and robbed or kidnapped.
The camp itself was a sea of nylon tents, stretching for miles. More than 100,000 people lived there, sharing the scarce resources and facilities. There were no toilets or showers, and the Nile was the main source of water for everything. People also kept animals in the camp, adding to the pollution and health risks.
For the week, I was set up in my tent in a secure area because even the camp itself faced the risk of attacks from rebels who needed food and other necessities.
We conducted several training sessions with different groups, including hygiene promoters, agency representatives, the regional commissioner and other RUWASSA staff. We used English as the main language, but we also had interpreters who translated into Dinka, the local language spoken by most of the refugees. We demonstrated how to use the LifeStraw 1.0 filters, which are simple and easy to operate. They can filter up to 18 liters of water per hour, enough for a family of five.
We visited many tents and showed the refugees how to use the filters. They were very curious and eager to try them out. They were amazed by how clear and fresh the water tasted after being filtered. They thanked us for bringing them this life-saving technology.
The impact of LifeStraw's intervention was significant. According to a survey conducted by UNHCR in 2014, the prevalence of diarrhea among children under five years old in the camp decreased from 33% to 15% after the introduction of LifeStraw filters. The survey also found that 94% of households reported using LifeStraw filters as their main source of drinking water.
By providing life-saving water solutions to South Sudanese refugees in Mingkaman, LifeStraw demonstrated its commitment to this mission and its solidarity with the people of South Sudan.
2017: Safe Drinking Water During A Cholera Outbreak
In August 2017, I had the opportunity to lead LifeStraw's team in South Sudan, where we partnered with UNICEF to provide safe drinking water to the communities affected by a severe cholera outbreak. The outbreak was caused by heavy rains that contaminated the water sources and spread the disease rapidly. UNICEF had procured LifeStraws, which are portable purifiers that filter out bacteria from water, and needed our help to train their staff and other partner organizations on how to use them effectively.
Our team consisted of four people, including Vincent Ajuoga, one of the Area Coordinators in the Give Back Program. We flew to Juba, the capital city, and then split up to cover different regions of the country. I was assigned to Kapoeta, a town in the southeast, while Vincent and the others went to Bor and Malakal in the north.
Kapoeta was a challenging environment for me. It was hot, humid, and full of mosquitoes. As soon as I arrived, I fell sick with malaria and had to spend a week in bed, recovering from the fever and chills. I was worried that I would not be able to fulfil my mission, but thankfully, I recovered in time to resume my work.
I contacted our local partners, who included The Carter Center, South Sudan Red Cross, World Vision, Inter SOS, American Refugee Council and UNICEF. They were eager to learn how to use the LifeStraws and how to distribute them to the most vulnerable groups, such as women, children and infants. We organized several training sessions for them, where we demonstrated how to assemble, use and clean the LifeStraws. We also explained how they could educate the communities on the importance of safe water and hygiene practices to prevent cholera and other diseases.
The training sessions were a success. The participants were enthusiastic and engaged. They asked many questions and shared their experiences and challenges. They also expressed their gratitude for our support and for the LifeStraws that would save many lives. I was impressed by their dedication and resilience in the face of such a difficult situation.
I left South Sudan feeling proud of what we had accomplished together. I also learned a lot from this experience. I learned about the culture and history of South Sudan, which is a young and diverse country that has suffered a lot from war and poverty. I learned about the value of teamwork and collaboration across different organizations and sectors. And furthered the impact of LifeStraw's technology on improving health and well-being for millions of people around the world.
LifeStraw is currently working with nonprofit partner Alaska Health Project South Sudan, to provide lifesaving LifeStraw purifiers to families of acutely malnourished infants and children. Help us provide safe drinking water to families with acutely malnourished infants and young children in South Sudan by donating.