YOUR PURCHASE HAS IMPACT
1 PRODUCT, 1 CHILD, 1 YEAR OF SAFE WATER
How Our Give Back Program Works
For every 500 products we sell, we distribute a LifeStraw Community purifier to a school in need which provides safe water to 100 school children for a period of five years. Put another way, one purchase of any LifeStraw product provides a year of safe water to a child in need, five purchases provide that child with safe water for the next five years. Read more below about how we do so much more than just provide water purifiers.
AT the end of 2022, the LifeStraw Give Back Program has reached
7,681,286 KIDS

Have received 1 year of safe water since the program began.

2,697 SCHOOLS

Have received water purifiers thanks to your purchase

14,860 FILTERS

LifeStraw Community Filters delivered thanks to your purchase

25,349+ FOLLOW-UP Visits

Your purchase allows for continued support
WE'RE NOT A ONE-FOR-ONE AND THERE'S A REASON
Not every product serves every context or water need! We have a portfolio of products that are designed specifically for low-resources and humanitarian settings.
WE DON'T JUST DROP OFF PRODUCTS
We provide onsite education and training, and year-round support to build and maintain relationships with our schools and communities, and to ensure the purifiers are properly maintained and use.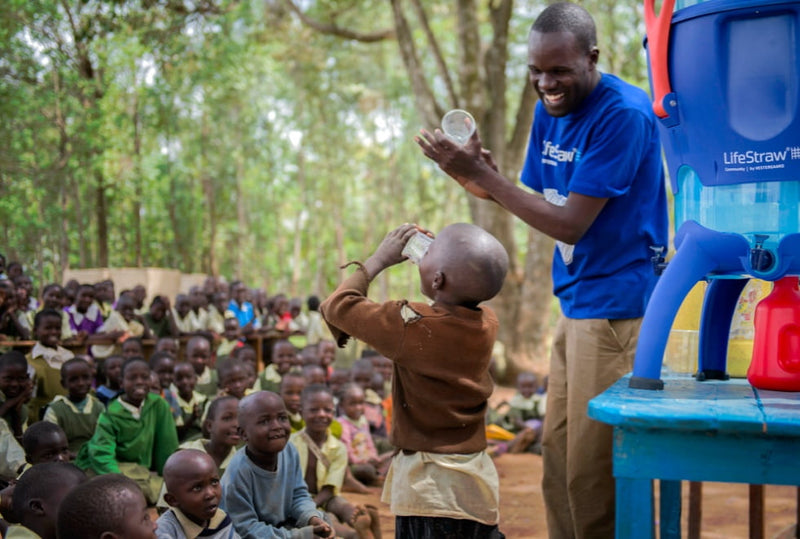 WE MAKE A FIVE-YEAR COMMITMENT TO EVERY SCHOOL
We provide on-site education, training and year-round support to build relationships with our schools and communities, and commit of minimum of five years of support to every school. After five years, we renew our commitment to the same schools with new technology, training and support unless those schools have gained access to safe water.
WE HIRE LOCALLY
In western Kenya, we employ over 40 fulltime local staff who work to ensure transparency, sustainability and program quality.
The team that makes it all possible
LifeStraw employs over 40 full-time local staff to implement our Give Back program in Kenya. Our staff are from the local areas in which they work, enabling them to establish long-term relationships with local communities and schools. Our team delivers all our trainings and education in local languages and provides year-round follow-up and support. Our programs also work closely with local stakeholders including Ministries of Health and Education.
Dan Olubero

Julianne Aketch Ochieng

Vincent Ochieng Ajuoga

Rebecca Masoni Mulamba

Emmanuel Nyamasi

Violet Ngunjiri

Nancy Ogada