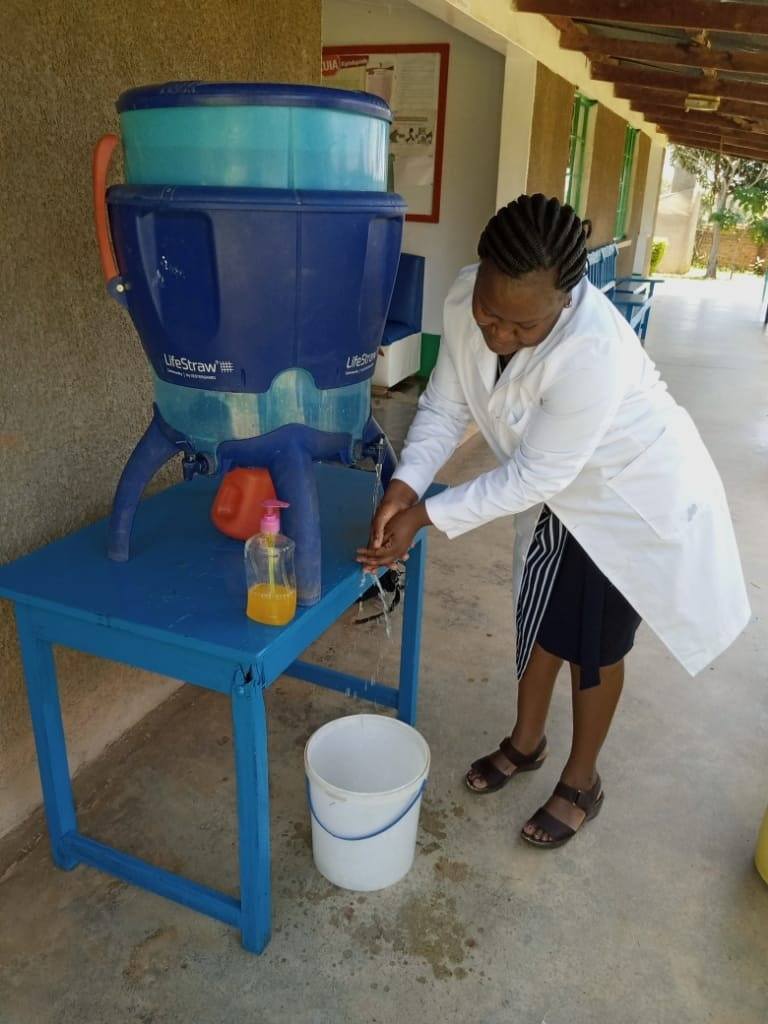 SOCIAL RESPONSIBILITY
LifeStraw in the time of COVID-19
April 10, 20
There's no doubt about it: we're in unprecedented times. Since the outbreak of COVID-19, millions of people have been affected. Many LifeStraw team members are doing their part by staying home, showing gratitude to those on the front lines, and purchasing only what we need. We're still at work and we're still here for you. We've added support to our customer service team in order to manage the increased volumes of questions and requests. Please feel free to reach out to info@lifestraw.com for assistance. We're also happy to share some of the extraordinary efforts of our team around the globe.
Supporting COVID-19 quarantine camp in Mon State, Myanmar
Our team in Myanmar has been working with Helvetas Myanmar to contribute to the Gulf of Mottama Project. This project is led by the Swiss Agency for Development and Cooperation. Helvetas Myanmar contributed 1,500 surgical masks, 200 Jerry cans, and 7 LifeStraw Community purifiers to the COVID-19 Quarantine Camp in Mon State of Myanmar. We are working with partners to help make communities more resilient during this global pandemic by ensuring that they have access to safe drinking water.

Unloading supplies at camp
LifeStraw's lab in Vietnam continues to support quality control testing while also ensuring safety of workers

Our team in Vietnam continues to operate LifeStraw's lab through its designation as an essential service. The lab is under strict supervision by the Hanoi government. LifeStraw staff are following careful protocols to ensure their safety and the safety of others. A huge thank you to our Vietnam team for their persistence and dedication. Below are photos from recent lab activities!

Lab staff hard at work
LifeStraw Community (left) in the lab
Teaching handwashing, making soap, and sharing information about social distancing in Western Kenya
Schools are closed in Kenya which means the normal daily activities of our field staff are on hold. All will continue to receive full salaries as we support them staying at home. However, many of our team members have stepped up to work with local health facilities and communities in order to provide training and supplies. Many are working to share information about social distancing, proper hydration, protection, and safety protocols. Below are some highlights from the team.

Handwashing training

Making and distributing soap
Dorice, LifeStraw's sub-county coordinator for Butere and Khwisero, has been working with her women's group to make soap to sell to her community. This allows the women an opportunity to provide for their families, while simultaneously teaching and encouraging proper handwashing. One community member brought a bunch of bananas to sell in exchange for soap for her family. It's problem-solving strategies like this that illustrate our team's commitment to well-being and health. 

Local woman bringing bananas to trade for soap

Installing handwashing stations
LifeStraw Sub-County Coordinator, Daniel in Cheptais, has created 20 handwashing stations out of old Jerry cans and installed them throughout his community.
Maintaining soap supply and disinfecting local markets
Patrick, sub-county coordinator for Vihiga and Hamisi, has been making sure that all local shops have soap and water, and reporting any shortages to the County Officers. He has also been encouraging proper handwashing, and has worked with a team of 10 people from the sub-county district to spray all of the local markets with disinfectant.
Serving as a vital education and news source for the community
Elizabeth, sub-country coordinator for Bungoma Central, has been sensitizing her community on the importance of proper handwashing using clean and safe water and soap. She is also making sure that there are handwashing stations at critical locations across the village. Elizabeth has also been educating others on the importance of monitoring the children in order to encourage social distancing and make sure that they are not playing in groups. Additionally, she has been giving general media updates on the virus to community members who are not able to access the news, and encouraging them to stay safe.
The COVID-19 pandemic has put a lot of stress on our teams throughout the world, but we are proud of how everyone is staying safe and finding unique ways to do their part. Both globally and at home, we're doing whatever we can to ensure that safe, drinkable water gets into as many hands as possible. We are drawing from our public health background to ensure we practice proper hygiene, social distancing, and that we relay critical information to others.