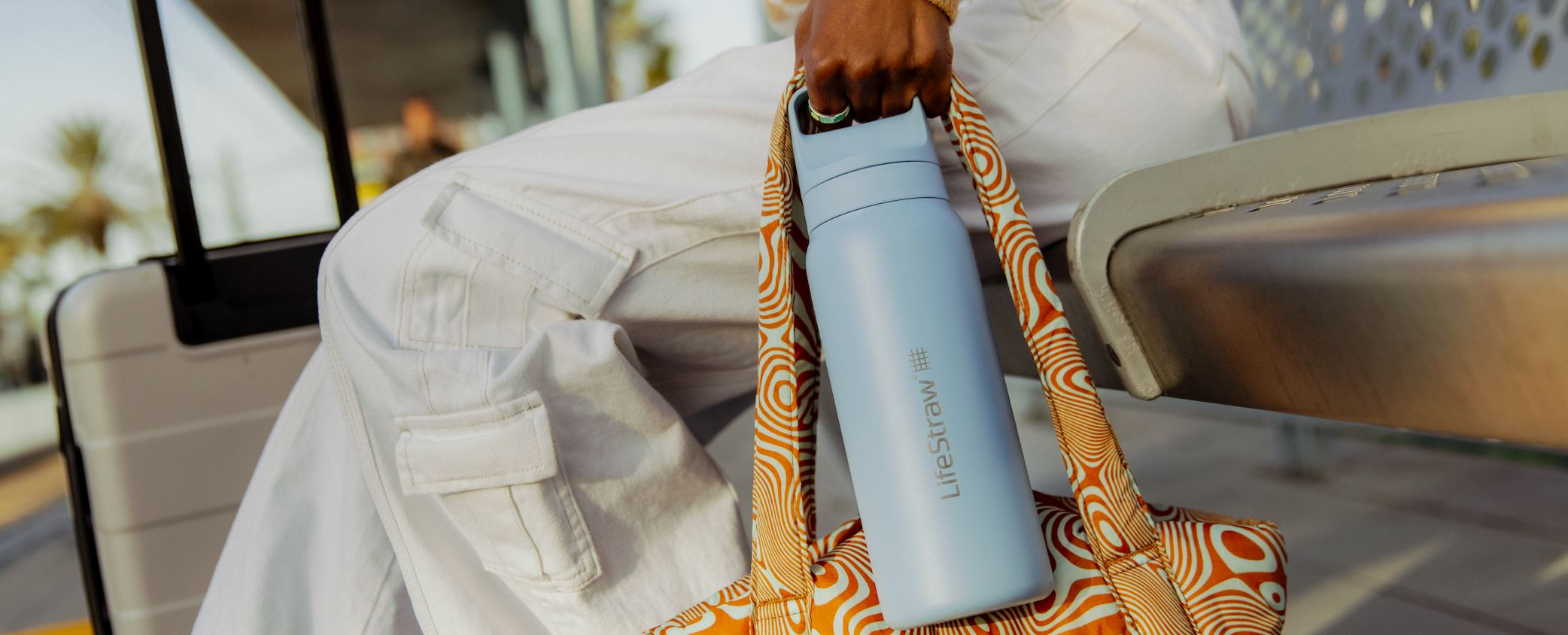 Meet the new LifeStraw Go Series Water Filter Bottle
April 17, 23
Your emotional support water bottle is finally ready to hit the road. LifeStraw is excited to introduce the new
LifeStraw Go Series
, the ultimate sidekick for safer, better-tasting water wherever life takes you.
LifeStraw Go Series is the perfect travel water filter bottle
Take it on big trips and everyday adventures. We designed the LifeStraw Go Series to make it easier to bring your bottle along on your travels. That means no more overpriced airport plastic bottles, hauling jugs of water up from the front desk at your hotel in Mexico, or waiting in line at "the good sink" in your office — just a hydration companion that makes safe water easy to access on the go.
The leakproof handle is easy to clip to your bag or grab on the run, and covers the mouthpiece so every sip is clear of germs, dirt, and airport funk. And the durable materials in every bottle mean it can handle being crammed under your seat, live in the bottom of your work bag, and take the occasional tumble (it happens!).
Are you ready to hit the road hydrated?
Taste the difference of advanced filtration, on the go
From everyday sips to international travel, nothing beats the safety and taste of filtered water.
The LifeStraw Go Series two-stage filter has you covered.
Improves taste: the carbon filter reduces chlorine, odors + organic chemical matter
Filters out: our membrane microfilter filters out bacteria, parasites, microplastics, sand, dirt, and cloudiness
Saves waste: the membrane microfilter lasts for up to 4,000 liters, which keeps 8,000 single-use plastic water bottles out of our parks, our oceans, and our communities.
We are proud to be a B Corp and Climate Neutral Certified brand, and our filters make it easy to do good on the go. And for every purchase, a child in need receives a year of safe drinking water through our Give Back program.
Colors, finishes, and sizes for your style
The LifeStraw Go Series combines its award-winning filtration with sleek design for you to make your own.
Find your fit and choose from:
Nine trendy new colors, including Icelandic Blue, Laguna Teal, and Kyoto Orange
Two finishes: keep your water cool for hours with double wall vacuum-insulated stainless steel, or go clear with BPA-free bottles made from 50% post-consumer recycled plastic
Three convenient sizes: 22oz plastic, 24oz stainless steel, or 1L in both finishes
Every bottle features a leakproof travel handle for easy carrying in airports and offices, a covered mouthpiece to protect from germs and spills, and LifeStraw's advanced Tritan Renew two-stage filter.
Show us where you go
Shop the LifeStraw Go Series in our store and wherever you find LifeStraw near you. Show us where you take your Go Series bottle with #lifestrawgoseries and we'll see you on the road!